Get Started
Follow these eight steps to creating a successful money generating marketing tool for your business.
1. Start by planning your website
Use our printable Web Marketing Tools to help guide you down the path of the Why, What, Where, and Who of web design. Filling this out helps with focusing your marketing and design "needs" and "wants".

2. Review our portfolio of customer sites
Viewing our portfolio of customer web designs will allow you to get a better understanding of the quality we provide to each customer. Every design is custom built at an affordable price based on each customer's requirements.

3. Purchase your domain name
Once you have an idea of the type of website you want, get a domain name that will best fit your business or organization. Poor Richard recommends Network Solutions for their excellent service, and GoDaddy for low domain name prices.
Register your domain name to begin creating your online identity now!

4. Design Your Website
You can have your website design completed in many cost-saving ways.
Use Site BuildIt! to Create your own Web Business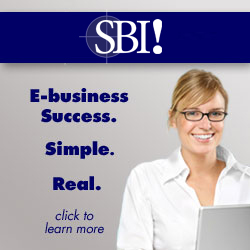 Since 1997, SiteSell.com has helped hundreds of thousands of regular people build online businesses ("e-businesses") that outperform larger competitors. SBI! is the only product that helps everyone (from Web novices to the "savvy-but-unsuccessful") build profitable, long-term e-businesses. SBI! owners build their businesses from the comfort of home, and at their own pace.
Click here to find out how to build your e-Business
Design Your Own Website
Microsoft Expression is a professional design tool that anyone can use to create modern, standards-based sites that deliver superior quality on the Web. The Microsoft Expression suite of professional design tools and innovative technologies will take your creative possibilities to a new level. Whether you are designing standards-based Web sites, rich user experiences on the desktop, or managing digital assets and content, Microsoft Expression applications will help. Click here for more information on Microsoft Expression
Use a Pre-designed Web Template
Template Monster website templates, flash templates and other products are ready-made web designs, that can be used as a basis for fast and high-quality website.
The website templates, flash templates and all other products are completely customizable and ready for immediate download.
Template prices are as low as $45, and Poor Richard Web Press can set up any Template Monster site for you for $993.00 -- less than half the price for a site designed by us.
Click here to view the Web Template to fit your needs.
Custom Web Design
by Poor Richard Web Press
Poor Richard Web Press will be happy to discuss your requirements and timelines required to design and successfully deliver a professionally crafted website as your least expensive and most effective marketing tool. Use our contact form, or call us at (410) 610-8632.
Design Your Website Using Homestead
Build your website with Homestead! Use our award-winning web design software to create websites in minutes. Web hosting, domain and email included. Homestead is perfect for small business and professionals who want an online presence but do not want to learn programming. Packages start at $9.99 per month. Build a website in minutes! Try free or sign-up for our $4.99mo. limited time offer.
5. Purchase your web site hosting
If you do not already have an Internet Service Provider (ISP) that provides web hosting services, we can help to provide you with premier hosting services. All web hosting providers listed provide control panels offering their customers the maximum flexibility over their hosting, email, and web functionality.
From the business owner to the individual who desires full functionality on a small budget, hosting from BlueHost.COM provides your complete web hosting solution.
HostMonster, is one of the leading providers of hosting solutions and services and is trusted by thousands of businesses and individuals.
Lunarpages Hosting offers industry leading infrastructure built with the best equipment, including Dell, Sun and Cisco Network Devices.
See all of our select hosting options

6. Market your website
Poor Richard Web Press has experience with designing websites having great search engine results. Our customers find their websites achieving terrific search engine results resulting in phone calls or emails inquiring about their services or products. Though nobody can guarantee search engine results, Poor Richard Web Press has taken the time to work with the customers to focus keywords and web content to better position their sites against the competition.
There are other ways of promoting your business and website. Google AdWords enables you to create and display ads on Google.com and the Google content network, which includes Google AdSense publisher sites. You can choose your target audience, set your budget, and see your ads almost instantly.
Constant Contact
With Constant Contact
, you can create and send top-notch email newsletters and promotions with no technical expertise. They make everything easy for you, including list management and reporting—and they will give you free live support when you need it. With Constant Contact
, you have everything you need to be successful at an affordable price.

Do-It-Yourself Email Marketing
with Constant Contact
means you have the industry-leading service, support, and personal coaching trusted by more than 90,000 small businesses, associations, and nonprofits. You'll discover that you can quickly create professional-looking email campaigns that grab attention and help you build successful, lasting relationships with your customers, clients, or members.


Create and Send Eye-Catching HTML Emails in Minutes! 60 Day Free Trial - Click here!
or
Vertical Response
Send 500 FREE email newsletters with your VerticalResponse trial!
Build Stronger Customer Relationships with Email Marketing. Free Trial!
Press Releases
Got Big News? Don't Keep it a Secret!
Create Instant Publicity, Online Visibility & Increase Web Traffic.
Sign up today and get 10% off your first news release!
7. Maintain and update your site easily with add-on customized Productivity tools.
These tools are designed to fit any business or organizations content management requirements. They are easy to use and require no knowledge of web design.
Explore our Customized Add-On Productivity Tools
8. Use your website to generate passive income
Affiliate programs can be used to place ads on your site that can earn you money when a user clicks a link and purchases an item from a link sponsor or even when a visitor to your site just clicks a link. An example of a great Pay-Per-Click program is Google's AdSense. ( ) Earnings from affiliate marketing can pay for your site design as well as yearly hosting costs making your website a business marketing tool that will always pay for itself.
Check out these great affiliate programs to make you additional cash from your visitors. Remember, if they are going to leave your website, you might as well create a method get paid for it!
LinkShare Affiliate Program
Is your website filling your piggy bank?

Earn revenue from your website's traffic.

Join LinkShare Today!
______________________________
LinkConnector Affiliate Marketing Program



Earn money from your website traffic!
Place banners and text ads on your site to generate additional income from your website. Read more about affiliate marketing at wealthvirtues.com